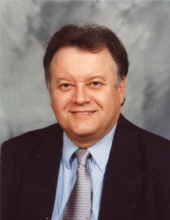 Obituary for Andrew Joseph Novotney
Andrew Joseph Novotney, age 76, of Waynesville, NC, passed away on October 16, 2018, at Haywood House in Canton, NC, after a long illness due to dementia. A memorial service will be held at 2:00 p.m. on Saturday, November 3, 2018 at Grace Church in the Mountains with the Reverend Joslyn Ogden Schaefer officiating. A memorial mass will be held at 11:00 a.m. on Saturday, November 10, 2018 at Saint Thérèse Roman Catholic Church in Mooresville, NC with Father Mark Lawlor officiating. Private inurnment will be in the columbarium at Saint Margaret of Scotland RC Church in Maggie Valley, NC.

He was born on July 20, 1942, in Augusta, GA--the only child of Henrietta Holliman Novotney and Andrew Joseph Novotney, Sr. His early years and education were in the Washington, DC, area, where his mother was a civil servant.

He earned the Bachelor of Arts degree in Philosophy from Wheeling Jesuit University, the Master of Divinity degree from Woodstock College, and the Master of Arts and Licentiate in Philosophy from Saint Louis University. He was ordained a Roman Catholic priest on June 12, 1971, in the Chapel of Mont de Chantal Visitation Academy, in Wheeling, WV, and served for 27 years in the Maryland Province of the Society of Jesus (Jesuits). Fr. Novotney's specialty was campus ministry. He was the Roman Catholic Campus Minister at Georgetown University in Washington, DC, from 1971 to 1978. He was an Instructor in Philosophy and Director of Campus Ministry at Rockhurst University in Kansas City, MO, from 1978 to 1982. He was the Roman Catholic Campus Minister at Davidson College in Davidson, NC, from 1982 to 1994 and was the Director of Campus Ministry for the Charlotte Diocese of the Roman Catholic Church from 1986 to 1994, supervising nine campus ministry programs in the western half of North Carolina. During that same time, Fr. Novotney also served as Associate Pastor and then Pastor of St. Thérèse Roman Catholic Church in Mooresville, NC from 1982 to 1994. He next became the Assistant to the Director of the Jesuit House of Prayer in Hot Springs, NC, from 1994 to 1997. He was a Certified Administrator and Interpreter for the Myers-Briggs Personality Inventory from 1988 and utilized that and other interpersonal skills in retreat ministry and counseling over the years.

On May 2, 1998, he married the Rev. Adele Byrum Novotney (United Methodist), who survives him. He also has a first cousin surviving, Jane Adams Edmonds and her husband, General Maurice Edmonds, US Army, Retired, of Atlantic Beach, FL.

In secular life, Fr. Novotney served as Operations Manager of Prodigals Community, Inc., in Winston-Salem, NC (a long-term residential drug & alcohol recovery program) from 1997 to 2002 and was their Interim Co-Director from February 2001 to June 2002. After moving to Haywood County, NC, Fr. Novotney became a Counselor Technician at the Swannanoa Valley Youth Development Center from 2003 to 2011 and then retired.

Prior to his illness, he faithfully attended Saint Margaret of Scotland Roman Catholic Church in Maggie Valley. He enjoyed reading (history), watching and critiquing movies, the toy poodle Mini whom his wife brought to their marriage, the five cats they later acquired, and playing tennis. He was well loved as a pastor, teacher, and friend to many and is remembered for his kindness, intelligence, and wit, as well as his own volcanic chili recipe.

The family would like to thank the staff of Haywood House and Four Seasons Hospice and Palliative Care for their loving care in Fr. Novotney's last years. In lieu of flowers, the family requests that memorials be made to the charity of one's choice.
Previous Events
Service
Grace Church in The Mountains
394 North Haywood Street
Waynesville, NC 28786
Service
St. Thérèse Roman Catholic Church
217 Brawley School Road
Mooresville, NC 28117
Cemetery Details
Location
St. Margaret of Scotland Catholic Church Columbarium
92 Murphy Drive
Maggie Valley, NC 28751